Events and Advice
WISHING YOU A HAPPY NEW YEAR AND HEALTHY DIGESTION FOR YOUR DOG OR CAT IN 2019!
HEALTHY GUT MAKES FOR A HAPPY DOG
Your dog's health can often rely heavily on their digestive system. Their immune system is affected greatly by their gut (stomach, colon and intestines) and these are the main pathways for nutrients to get into your dog's body keeping them healthy and fit. If this part of their body isn't kept functioning at it's best it can often lead to ill health with not enough nourishment being received by their bodies. It is quite often the case that a dog's gut flora can become overwhelmed and become upset.
How can you help your dog maintain a healthy gut?
From constipation in certain breeds to an upset stomach and loose stools it is often quite difficult to determine what is causing the issue.
Avoid giving your dogs bones of any sort, fatty pieces of meat, raisins, grapes, dairy products, garlic or onions and any of the other foods we listed on our "Naughty List" prior to Christmas, maintain a healthy diet of dog friendly foods and introduce probiotics to your dogs diet.
Other factors that can cause an upset digestive system can be:
Stress or over excitement;
Some medications such as antibiotics, painkillers or steroid based treatments;
Worming treatments or chemicals entering the dog or cat's system such as vaccinations or flea or mite treatments (we are not advising you to avoid these however we do advise you support the digestive system before and after these treatments are given).
Symptoms to look out for include:
Not eating their food;
Change in Behaviour sometimes you may notice your pet less active, seeking refuge, hiding away;
Licking the lips;
Arching their back or gurgling sounds coming from their stomach area;
Whimpering or howling;
Regurgitating which may produce bile;
Seeming unsettled turning in circles or not able to relax;
Eating grass.
You may find your pet reacts in other ways too, but these are just a few pointers.
Why Probiotics can be essential to your dog's good gut health.
To enable your dog's gut to absorb the necessary food nutrients, enzymes and chemicals necessary for good health your dog's gut must be up to the task. The ratio of good to bad bacteria in your dog's stomach has a direct impact on how well your dog absorbs these and how they can fight off health issues such as vomiting, dry and itchy skin, frequent loose stools, dehydration etc.
Pet probiotics can support good gut health. These probiotics contain live bacteria promoting all types of digestive processes. Probiotics can be given for a set period of time or can be given as a maintenance to the daily diet to keep their digestive tract in good health. We have products to support both.
Our Probiotics Advanced for Dogs, Puppies Cats and Kittens is an Advanced, Extra Strength Veterinary formulation developed, approved and used by Vets in the UK. It helps support a sensitive or over-reactive digestive system and maintain optimal gut health and includes pre-biotics which sustain the probiotics.
It uses an advanced base formulation of Bentonite Clay which has proved superior to the Kaolin based clay in absorbing enterotoxins and combines three key ingredients which may help to maintain digestive efficiency by restoring the microflora and soothing the gut lining.
Probiotics in the form of Enterococcus faecium (NC1MB 104 15) are aimed at maintaining a high level of beneficial bacteria in the gut and Fructo-oligosaccharides (prebiotics) to provide nourishment for the probiotics.
The blend of probiotics and clay is delivered in a syringe that is dispensed into the mouth. Clay absorbs the toxins and excessive fluids in the gut whilst the probiotics replenish the lost bacteria.
This combination may assist in the stimulation of new cell growth, repression of the growth of harmful bacteria and may aid the immune system as well as aiding the intestinal absorption of healthy nutrients.
Keep your pet's gut optimised with good bacteria helping your dog be the best that he or she can be.
Broadreach Nature + also has the following great products which make up our Digestive Care Range:
Digestive Care Sprinkles, Daily Fibre Care, and our Probiotics Advanced in 15ml, 30ml and 60ml
If you need more advice and support, we will be happy to help. Give us a call on 01223 855857 email us at anne@broadreachnatureplus.co.uk
Wishing you all a very Healthy and Happy 2019!
CHRISTMAS CARE FOR YOUR PETS
Christmas is a busy, fun and very special time of year but it is sometimes hard to make sure through all the Christmas Festivities that we keep our pets safe.
Here are a few things to try to keep an eye on during the festive season:
FOODS THAT WILL GET YOU ON THE NAUGHTY LIST AND MAKE YOUR PETS ILL:
BONES - A choking hazard as well as not being good for a pet's digestion.
CHOCOLATE - this is poisonous for pets – ensure you see a vet should your pet show any abnormal behaviour after ingesting even the smallest amount of chocolate or if you are worried about them potentially having done so.
MINCE PIES, CHRISTMAS CAKE AND CHRISTMAS PUDDING - Raisins can be toxic to pets - they contain toxic compounds that are harmful. They have the potential to lead to rapid kidney failure and death.
GARLIC, CHIVES AND ONIONS - They contain N-propyl disulphide, a compound that is toxic to dogs damaging red blood cells and reducing their ability to carry oxygen through the body. This often results in a condition called anaemia.
AVOCADO - They contain a toxin called persin, which is known to be very poisonous to dogs. It may lead to fluid accumulation in their lungs and chest, which can cause breathing difficulties, oxygen deprivation and even death.
ALCOHOL – Even the smallest amount can lead to ethanol poisoning which can lead to tiredness, lack of coordination, seizures, vomiting and diarrhoea.
XYLITOL - When pets ingest xylitol, it may lead to a rapid drop in blood sugar levels and symptoms like muscle weakness and seizures and can potentially to lead to more serious complications, such as liver damage and even death
TOYS AND DECORATIONS:
Remember during this time of the year baubles look like balls to dogs and cats and can splinter and choke, as can small balls found in crackers and tinsel may seem a great thing to use during a pull game but it's not good for their digestive tract.
And with all the natural greenery that Christmas brings remember to keep poinsettia, lillies and conkers out of your dogs reach as well as holly, ivy and mistletoe.
RATHER TREAT THEM WITH GOOD THINGS FOR PETS – AFTER ALL IT IS CHRISTMAS
Treat your pets to some yummy foods (in moderation) like cooked, boneless and lean red and white meat and vegetables like broccoli, carrots and peas as well as potato and sweet potato. You can also give them certain fruits in moderation like apple (NO PIPS they contain cyanide) and stoned apricots and blueberries. Avoid the onions, fats, gravy and sauces on the dinner, this just isn't good for them. Don't forget the all important post Christmas Dinner walk – enjoy it!
Remember if you are worried that your pet may have ingested something they shouldn't have to consult your Vet immediately.
Thanks to the RSPCA for some great advice during this holiday season.
Wishing you all a very happy festive season from all at Broadreach Nature +
COME ALONG AND SEE US AT THESE UPCOMING EVENTS:
London Vet Show - 15-16 November 2018, Excel London
Please note that this is a trade only show. London Vet Show is Europe's premier two day, conference-led exhibition for veterinary professionals, run in association with the globally recognised Royal Veterinary College and the British Veterinary Association.

PATS Telford - Stand E33
Not only are we at PATS Sandown but PATS Telford will see us there as well on 23 - 24 September 2018.
If you are serious about stocking pet products, only PATS has all the brands under one roof. With hundreds of exhibitors and thousands of products PATS gives you the opportunity to do business with the whole pet trade. Find out more here: www.patshow.co.uk
PUP AID 2018 - PRIMROSE HILL PARK - 1st SEPTEMBER 2018
We are attending PUP AID 2018 - Pup Aid 2018 will again be held in Primrose Hill Park, just off Regents Park Road, North London - 10am - 5pm
We are proud to be attending this great event - Every year this unique day gives the dog-loving public the golden opportunity to help raise awareness about the UK's cruel puppy farming trade by attending this amazing celeb-judged fun dog show in London.
Find out more here http://www.pupaid.org/pup-aid/pup-aid-2018/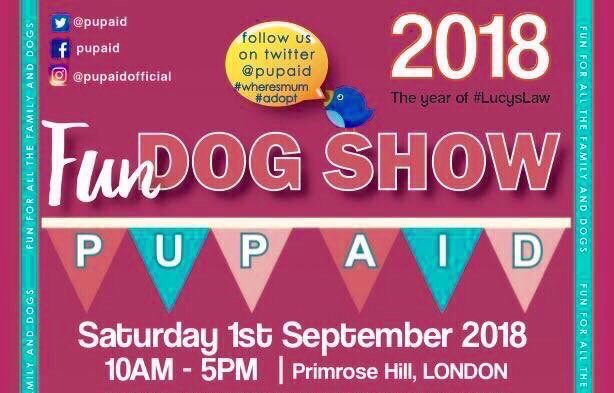 CANCELLED BY DOGFEST DUE TO THE HEAT
Dog Fest South (Knebworth Hall) on 7th and 8th July 2018
Unfortunately Dogfest have taken the decision to cancel this weekends event and Knebworth Hall due to the hot weather and safety and welfare of the animals.
We're excited to announce that we will be at Crufts this year - Hall 1 Stand 90.
Watch over 22,000 dogs compete for the World Famous Title of Crufts Best In Show
Enjoy hundreds of shopping stands and grab some pawsome show deals
Watch hundreds of talented pups take their moment to shine in agility, flyball, heelwork to music and obedience displays
Meet over 200 different dog breeds at the Discover Dogs Area
Buy tickets now at www.crufts.org.uk

PATS international Trade Show at Sandown Park, on 20th and 21st March 2018
We are exhibiting at PATS Sandown 2018. The UK's Spring Pet Trade Event!
PATS is the UK's largest dedicated pet trade exhibition with more than 140UK and International exhibitors.
If you're thinking of becoming a retailer of Broadreach Nature + then this is one for you – come and see our stand and chat to us more about the great opportunities.
Pets in the Park
We're at Pets in the Park - the annual event hosted by The Friends of Cherry Hinton Hall.
With an assortments of classes like the Best Veteran, Waggiest Tail, Best Rescue and the Cutest Puppy to name but a few! Fun classes to test your pet on the Sausage Recall, Musical Sit and many more with demonstrations from the experts.
Woodgreen Show July & November 2018
Once again we will be attending the Woodgreen Show in July and November 2018. From humble beginnings in 1924 Wood Green, The Animals Charity has grown to become one of the leading animal welfare organisations in the UK.
Come and see more - for further information visit www.woodgreen.org.uk
Bournemouth Canine Association Championship Dog Show from Sat 11th August to Monday 13th August.
Saturday 11th — Utility & Gundog Groups
Sunday 12th — Toy & Hound Groups
Monday 13th — Terrier, Pastoral & Working Groups
Judging starts at 0930
Ample car parking at £7 for the day
Spectator dogs are welcome at £5. You just need to complete a declaration at the gate.
Snack Bars, Restaurant, Licensed Bar
Lots of stands selling anything & everything for you and your dog.
Show ground phone number Noon Friday to Monday, office hours 07784 651 882
Ashwell Show Monday 28th August 2018
We're once again at the Ashwell Show on Monday 28th August. Run entirely by volunteers, Ashwell Show is fast reaching its 100th year. In recent years we have revamped and redesigned the whole show to cater for all ages and tastes take a look here www.ashwellshow.co.uk
Gransden Show - September 29th 2018
We're at the Gransden and District Agricultural Society's Annual Show which takes place in the village of Great Gransden on the Cambridgeshire/Bedfordshire border, by kind permission of Messrs. J B Brown and sons. It's one of the very few events of its type still being run on a regular basis in the UK. Gransden Show offers exhibitors a wide range of classes to enter, including Horses and Ponies; Rare and Native Breeds of Cattle; Commercial Sheep; Produce and Home Fare; Pigeons; Poultry; a Dog Show; and many others. There are also special classes for children's entries. The Show is supported by a wide range of trade stands, refreshment facilities, and children's entertainments. It represents a great day out for the whole family, so please come and join us. Find out more here www.gransdenshow.org.uk
Events 2016
We've got a stand at the Croydon Christmas Bazaar
All Saints Church Christmas Bazaar - This Saturday 2nd December, Reading Room, 2- 4.30pm

AN OCCASION FOR ALL - INCLUDING FATHER CHRISTMAS!
Come along for a festive afternoon of fun for all ages.
Meet Father Christmas who is arriving in style!

Enjoy a glass of mulled wine, hot sausage rolls, mince pies, apple cake - all served with a smile by Father Christmas's not so little helpers!

A variety of things to buy including Christmas gifts, Decorations, Cakes large & small and even Doggy Christmas Treats and other surprises as well as a Raffle and Tombola
Please come along and enjoy an afternoon of Christmas Cheer, Goodies and great bargains - or simply to meet your neighbours!
Details From Di 01223 208042

Wood Green Christmas Extravaganza, 26 November 2017
We're at the Wood Green Christmas Extravaganza again this year.
FREE ENTRY! Get into the festive spirit and join us at our indoor Christmas Market. With over 50 stalls selling a wide range of products from gifts, homeware and stationery, to presents for your precious pets, you'll be sure to find the perfect gift for the whole family all under one roof. Plus enjoy a visit to Santa's Grotto.
Find out more here.
London Vet Show 16th - 17th November, Excel Centre London
Now in its tenth year, the London Vet Show brings you a two day conference-led exhibition for veterinary professionals, in association with the globally recognised Royal Veterinary College and the British Veterinary Association.
Covering the worlds of companion, equine, farm and business in one place over two jam-packed days, the London Vet Show brings you 150+ hours of lectures from world class speakers, 450+ leading suppliers and unrivaled networking opportunities.
National Pet Show, 4-5 November 2017, NEC Birmingham
We've got a stand at the National Pet Show - but what's it all about?
IT'S THE HOME OF THE CUTE & CUDDLY AND THE WEIRD & WONDERFUL!
See animal experts and celebrities, including the Supervet Professor Noel Fitzpatrick who will be presenting Noel Fitzpatrick Live, and TV presenter Michaela Strachan who is hosting SuperDogs Live. Get up close and personal to find out more about favourite pet and how to take care of them.
Watch amazing animal performances including dog stars of TV and film, birds of prey displays including beautiful owls and SuperDogs Live - with some of the most skilled and heroic dogs in the UK showcasing their talents.
Whether you like dogs, cats, rats, rabbits, reptiles, ponies, fish, chickens or chinchillas (and lots more animals!) - the National Pet Show promises to be a great day out for any animal lover!
TICKETS FOR THE NATIONAL PET SHOW AT NEC, BIRMINGHAM ON 4 & 5 NOVEMBER 2017 ARE NOW AVAILABLE!!
Discover Dogs - 21-22 October 2017, Excel Centre, London
Come say hi, we're at Stand TS216
A great day out for all and under 8's go free. Get tickets here:
The UK's favourite crossbreeds battle it out for a place at Crufts
Bring your kids to our Kids Zone for face painting, arts and crafts and prize draws
Meet our Instagram famous Roving Reporters
Watch the top agility canine athletes in action in the main arena
Pet A Puppy at our Stressbuster Clinic
Junior Warrant Competition
Metropolitan Police Dog Display
Young Kennel Club 'Have a Go' ring
NOTE: Unfortunately no dogs, other than those that have been invited by the Kennel Club and Assistance Dogs, are permitted into the show.
LONGSTOW DOG SHOW , Longstow etc– in aid of Roadside Traffic Victims Sunday 1st October
A charity dog show in aid of the Road Victims Trust on Sunday 1st October, in memory of Mitchell Bailey who was tragically killed in January this year. The Road Victims Trust are a small local charity who support families bereaved by road traffic accidents. All their counsellors work on a voluntary basis and all money raised will go toward this very worthwhile charity,.

There are 6 pedigree classes, 11 novelty classes, (including a special novelty class for any cross labradoodle or cockerpoo) and a free puppy walk for puppies under 6 months. Rosettes to 5th place in all classes.
There will also be a variety of stalls selling their goods on the day.
Light refreshments will be available all day too so come along for a great day out with your four legged friends.
GRANSDEN SHOW –Great Gransden - Saturday 30th September
See all their details on the Facebook Page. or on their webpage here.The list of Craft Marquee exhibitors has now been updated. The number of stands has just reached 50, so there will be plenty to see, admire and buy here. Maybe a handmade wooden toy for a special young person you know?
Cambourne Village Fete, Cambourne – 9th September
Great day out for all visit their Facebook Page. We look forward to seeing you all there!
Ramsey Dog Show and Family Day
29 May 2016 - Ramsey
Great day out for all the family and free entry to the Ramsey Rural Museum. Launching our All Natural Dog Training Treats and Organic Coconut Oil for Dogs.
Saturday 18th June 2016
The Friends of Cherry Hinton Hall are organising their annual event, Pets in the Park featuring The Turbo Trust Dog Show, on Saturday 18th June from
12 – 6pm. With an assortments of classes like the Best Veteran, Waggiest Tail, Best Rescue and the Cutest Puppy to name but a few! Fun classes to test your pet on the Sausage Recall, Musical Sit and many more with demonstrations from the experts. Registration for classes at 12 noon.
25 & 26 June 2016 - Windsor Berkshire
The UKs Summer Festival for Dogs!
DogFest is a fun-filled, action packed day for you and your dog, hosted by Channel 4's Supervet Noel Fitzpatrick!
Animal Fun Day
Sunday 4th September 2016
Wood Green Animal Shelter, Godmanchester
We will be at the Wood Green Animal Fun Day - a great day out for the whole family with plenty of fun packed activities to enjoy and take part in.

Christmas Extraveganza
Saturday 26th & Sunday 27th November
Woodgreen Animal Shelter, Godmanchester
THE TWELVE DOGGIE DAYS OF CHRISTMAS
Join us in reading about our tips and advice for your gorgeous pets leading up to and over the Christmas time.
Every day up till Christmas come and follow the tips and hints of how to make your doggie's Christmas as wonderful as your own.
DAY 12 – CHRISTMAS WISHES TO ALL FROM BROADREACH NATURE +
A big thank you to everyone to has liked or shared our page and for following our 12 days of Doggie Christmas!
With Christmas Eve tomorrow Anne and the Broadreach Nature + Team want to wish every one of our Special Pooches, Furry Friends and their Lovely Families a very Merry, Wonderful Christmas and a very Happy and Healthy 2017! We will be continuing our blog on a weekly basis looking at all aspects of your Pet's health so do stay in touch and we look forward to being of service to you throughout 2017!
DAY 11 - CHRISTMAS TIME FOR SHELTER DOGS
At this special time of year we like to treat and make special fuss of our own pooch but what if a dog doesn't have their own family?
There are so many dogs some of whom have been living in shelters for a very long time in desperate need of a loving family home.
The Charities do a really fantastic job in creating a supportive and caring environment for these Dogs and Cats but its not the same as them having their very own home to cozy into.
Today I went to visit Wood Green Animal Charity in Godmanchester to donate some Cat Hampers, Stockings and a Dog Bed full of doggie treats and goodies as well as some goodie bags to share out amongst some of the special animals that will be here through Christmas. We thought it would be a lovely idea to perhaps feature some of the dogs looking for special homes, one of which is Fred who is in our Picture, He saved another dog's life yesterday by giving blood and today is flying the flag for Wood Green. He loves his treats too! Although is best as an only
dog as he definitely prefers human company. He is such a sweetie. If you feel you could offer Fred a loving home do get in touch either direct to Wood Green or to us and we can forward on your interest. Look on their site to see some of their other dogs needing homes at www.woodgreen.org.uk
Day 10 – Christmas Presents and Dogs
If you are like me and enjoy putting your Christmas Presents under the Tree in readiness for the big day there's afew things to be aware of to help our furry friends.
Try and supervise them when they are around the presents and if you go out leave them in another room away from temptation!
Dogs have extremely sensitive noses with a fantastic sense of smell approx 40 times better than ours! So they can sniff things out even if the presents are securely wrapped up!
Best to remove any pressies that contain spices or batteries as dogs have been known to chew or swallow them. Chocolate is as im sure you know very toxic to dogs as it contains a chemical called theobromine which is poisonous to dogs as well as to other animals including cats, rodents and rabbits.
In fact any pressies containing sweets as there have been cases of dogs dying from eating sweets. Some are more toxic than others, even wrapping paper to some dogs can be irresistible so in some cases it may be easier to just keep all Christmas Presents out of the reach of your four legged friend until Christmas day comes and perhaps give them their own doggie stocking instead! We have a selection of all natural ingredients in stockings, baskets and hampers that will keep them entertained over Christmas, take a look at www.broadreachnatureplus.co.uk
DAY 9 - BUYING A PUPPY AT CHRISTMAS TIME
We all love puppies but the saying 'A Puppy is for life not just for Christmas' is so
right.
A lot of breeders will not sell puppies over the Christmas period for fear that they will be a surprise for a loved one only to be discarded after the initial excitement has passed or the novelty to wear off and then the poor puppy who has just got used to his or her new family is then rehomed or taken to a dog shelter.
The most important thing is that any new puppy owner needs to realise the first six months of owning a puppy is full on and hard work from teaching them to toilet outside (usually hourly to start with) to training them socializing them with other dogs and puppies and in fact all the sites and sounds around them etc. so the whole family really has to buy into the idea of having this little bundle of fun and energy welcomed into your family.
Christmas is very much a family time with a lot of the family often being off together which in this day and age of working families can be quite rare. So in one way it's a nice time to bring a new family member into the fold.
It is vital the family has done their research and homework into both the type of breed that will suit their situation, how much free time do they have to give to a puppy, will they need to get extra support services in place to make sure the puppy isn't left on its own for long periods. The Kennel Club states for a puppy this is no more than 2 hrs at a time and for a fully grown dog no more than 4 hours at a time. Generally the classification for a puppy is up to 12 months of age and then a dog from 12 months +
Do you live in a house or flat ? If in a flat is there access to a garden and does that involve flights of stairs to get to it? Toilet training is taking the puppy out every hour so this may not be practical with a lot of stairs to climb each time.
Are there any dog allergies in the family to consider either to their coats (dander) or to their saliva and have at least one puppy book having been thoroughly read through to understand abit more about what is involved.
If all these things have been considered and you feel you can give a puppy a lovely home then please select a puppy from a recommended source if you possibly can this can be family or friends or indeed on the breed forum sites or club sites that are usually set up around the breed concerned. If you do go on line to search for a puppy to take a list with you of the questions you need to ask to check that the puppy has had the right start in life. This list can be found on the kennel club website or often the breed clubs have them. I can also answer any questions you have if you wish to send me a message via email to anne@broadreachnatureplus.co.uk or message me on facebook on the Broadreach Nature + page
DAY 8 - Christmas time and safety for your Pets
With the Christmas Tree decorated and pretty tree lights, baubles and tinsel on your tree is no doubt looking amazing !! it may also look amazingly attractive to your special furry friend too!
If they are an inquisitive type there are afew things you can do to help avoid a potential accident.
Watch the electrical cables leading off the tree light lights. Try and put them behind something if possible or cover them over to stop any chewing possibilities and the potential of an electric shock.
With baubles and tinsel these can cause obstructions if ingested and may need surgical removal by a vet. Sometimes dogs don't just play with things they like to eat them too.
Our Vets are often surprised at the contents of some of their customers Dogs stomachs and what they have found in them such as Golf Balls, Cuddly Toys, Slippers, Socks and in fact some dogs don't seem to care what they eat so do keep any eye on them as best you can and perhaps think about removing the low hanging baubles from the tree! Also any chocolate tree ornaments as you probably already know chocolate is toxic to dogs and can potentially be very harmful to them. Dogs and cats are Lactose intolerant as a rule.
On a different note watch out for Antifreeze too. It tastes sweet to dogs and cats and can be lethal if ingested. Sadly a friend of mine's dog died two weeks ago from antifreeze poisoning although they don't know how it happened.
Make sure any antifreeze is stored securely and away from Pets.
Effects of poisoning initially appear as vomiting, diarrhoea, weakness and the dog may appear drunk. Any untreated dog may appear to recover but then may suffer kidney failure.
Contact your Vet immediately at the first signs or if you see your dog or cat licking or drinking any.
DAY 7 - CHRISTMAS TIME PLANTS AND TREES
We so love the colour that comes at Christmas time, the bright red Poinsettia's, the glossy dark green Holly and Ivy or Mistletoe, and the lovely smells that come from
the Potpourri that we may put around the house to give that extra festive aroma. But did you know these can actually be toxic to our loved pets if they can reach them to chew or ingest.
The Poinsettia if ingested or chewed can cause excessive salivation and vomiting.
Holly and Christmas Trees – are only a problem if eaten although hopefully the spikey leaves will dissuade this. The berries on the holly if eaten however, can cause vomiting and diarrhoea.
Mistletoe – the same as the holly. Leaves are low toxidity but the berries may cause a tummy upset if eaten.
Ivy – can cause a tummy upset if eaten or skin irritation or contact dermatitis if exposed to the skin for any length of time. This relates to the UK Ivy and not the American Poison Ivy which is not commonly found in the UK.
Potpourri – is made up of dried plants and flowers which can cause vomiting and diarrhoea if ingested. Because of the dried plant matter which is often artificially coloured and fragranced or items such as pine cones or bark can become lodged in the through or gut which can be very dangerous and require surgery.
Signs of obstruction may include vomiting, lethargy, going off their food, not toileting or finding it difficult to produce stools.
A general rule of thumb for any dog is if you notice your dog being lethargic in general then seek veterinary advice.
From time to time all dogs will go off their food or may vomit occasionally for no apparent reason or may not toilet as often as usual but as long as they are bright in themselves in general they should be fine.
Always have fresh clean water available for them to drink, particularly once we put the central heating on or Aga's in the kitchen it can become very warm indeed for them and they will need extra water to drink.
Another thing to look out for is that if they vomit more than a couple of times I would generally contact your Vet. It may be nothing but equally it may be they have eaten something or had a drink from somewhere they shouldn't. If you can get early medical treatment it can very often avoid a much more significant problem later, particularly if they have had something that is poisonous. As soon as you are able I would also be giving them some Probiotic Paste to help sooth their gut and also help take the toxins out of the digestive tract to help. The other thing I would suggest is to try and get them to drink if you can to help dilute whatever has been ingested. Sometimes syringing some water into the side of their mouths helps until you can get them to the Vets. This is worst case scenario and hopefully you will never need to do this. But it is worth being aware of just in case to keep our lovely p